Third Scrimmage Notes
BC held its third of 4 preseason scrimmages today. Matt Ryan didn't put up spectacular numbers but did go 13-27 for 206 yards and one TD, which is an improvement. Not much to say here other than what is on the official site (aka Pravda), except to point out that Ryan's TD pass was hauled in by Clarence Megwa--after seeing Megwa in the spring game and hearing reports of his performances in training camp, this kid is a sleeper. If he is allowed any significant playing time, he will have a big year. Incidentally, this could be the best receiving corps BC has had in years--Tony Gonzalez has been BC's best wideout for 2 years now and will finally be a starter, after spending the last two seasons sitting behind inferior players due to TOB's "Seniority at all costs" policy; Kevin Challenger, Brandon Robinson, Taylor Sele, and Megwa will give Ryan 5 excellent weapons on top of his TEs and backs.

The other big news of the day was the release of the basketball schedule (PDF). Some dates to highlight:
-Nov. 10 (vs. UNH, season opener)
-Nov. 22 (at Providence, the first of what will be yearly meetings between the teams in a resumption of arguably BC's biggest basketball rivalry)
-Nov. 29 (vs. Michigan State, ACC-Big 10 Challenge--as cool as it is to see BC involved in this classic series, it would be kinda nice to see us play someone other than the Spartans for no other reason than that we just played them last year; still looking forward to this)
-Dec. 10 (vs. Maryland; it appears that the ACC powers-that-be are attempting to foster a natural rivalry between the ACC's only two northern schools, as this will be the second consecutive year that the Eagles and Terps meet the weekend before Thanksgiving in football and also in a December, ACC opener basketball matchup)
-Dec. 23 (at Kansas; this has been a long awaited matchup, although unfortunately the number of BC fans who will travel to Lawrence, Kans. for a game 2 days before Christmas figures to be small)
-Jan. 28 (at Duke; BC's first trip to Cameron Indoor for an ACC game)
-Feb. 14/17 (vs. Duke/vs. UNC; these blockbuster back-to-back home games will go a long way towards determining whether or not BC is a true championship contender)

I'm a football guy #1, hockey #1b, hoops is a very distant #3 to me in the pantheon of BC sports, but I can't wait for this upcoming season. Should be a great one. You have to love any BC athletic program that truly aspires to compete for the national championship, but with all due respect to Jerry York's boys BC has always been a traditional hockey power; the hoops team, on the other hand, has been built into what it is today really only over the 7 years of Al Skinner's tenure. Yes, the team had had successes prior to Skinner's arrival--notably the shocking upset of UNC in the 1994 NCAA tournament--but this is the first BC hoops team that has been among the near-elite, and it could be ready to break into the true elite. If TOB had a quarter of the ambition of a Skinner or a York, our football team could be doing spectacular and historic things rather than simply pretty good ones. These are truly exciting times for the fan of BC basketball, including T Wood, who has created the first blog devoted entirely to BC hoops at The House That Skinner Built. Check it out.

In other news, the Simms thing still really, as Peter Griffin would put it, grinds my gears. Simms noted that one of his major reasons for picking Louisville was because he felt the Cardinals offered him a better path to the NFL; apparently no-one at BC mentioned to him that there are currently 4 BC signal-callers in the NFL including a solid #2 and a #1 coming off a Pro Bowl/conference champion season while Louisville currently only boasts 2 QBs in the league, neither of whom is guaranteed to be on their teams' opening day rosters (ex-Cardinal Dave Ragone, in fact, was cut from the Houston Texans and later signed by the St. Louis Rams after losing his job as Houston's #3 to none other than the Pride of Maine, undrafted free agent Quinton Porter). The sad fact is that the most likely reason why no-one pointed this out to Simms is that no-one at the BC staff is even aware of it and I'm not even kidding. I've never seen a more out-of-touch coaching staff in my life. Luckily, according to the TOB apologists, Simms sucks and is only being recruited by any D1A schools because of his last name (never mind that most recruiting analysts feel that his stock will actually rise this season, as he missed most of the major summer combines due to a hand injury; and that his brother, Tampa Bay Buccaneers QB Chris, has indicated that Matt is a better QB than he was at Matt's age). Anyway, never have fear, as Rivals is reporting (subscription required) that BC is getting ready to make an offer to PA QB Matt Rodgers. The sheep don't have to worry about this being another kid being recruited solely on the basis of his last name, as Rodgers is no relation to Green Bay Packers QB and ex-Cal star Aaron. Matt Rodgers is, in fact, a 2-star QB from the suburbs of Pittsburgh who currently holds offers from Akron, Toledo, Bowling Green, and Ohio. Now while the MAC is a much better league for producing top-level QBs than it is in general, do we really need to be screwing around with this?? There is no reason to offer a scholarship to a kid who probably isn't any better than Ross Applegate. If we're going to take a flyer on someone, Blair Peterson--the 21-year-old Texas QB who recently returned from a Mormon mission in South America and has been compared to Ragone--might be a better shot. Hell, a Mormon QB named Peterson?? He's a big (6'4), strong, pocket passer, unlike Paul, but I'm willing to sign him up nonetheless. In all seriousness, though, I prefer him as a "taking a flier" guy to Rodgers. Obviously the best option is still Garcia, but that is not going to happen.

Other notes--today's Boston.com has an excellent article on Brian Toal. The kid sounds fired up, fully healed, and I can't wait to see him and Jamie Silva running around just drilling the shit out of people this year. Townonline.com has an article on true freshman DB Chris Fox and his adjustment to BC's training camp, worth checking out. Finally, Phil Kessel has signed with the Boston Bruins and will not be suiting up for Minnesota this year; this is huge news for BC hockey, whose chief rival for the 2006-07 national title will lose arguably its best and certainly its most promising player. With the departure of Kessel and the mass exodus of other top players from the WCHA schools who have dominated postseason NCAA hockey in recent years, BC could be the odds-on favorite to take home the trophy in St. Louis this season.

Finally, while we're talking pucks, it's that time of year again when barely-pubescent girls will soon be returning to school and will no longer be able to spend their afternoons conversing online with Keith Johnson. Our condolences go out to Johnson, whose Black Bears might actually be able to win something if Keith spent his free time lifting weights, studying film, and working on his game rather than planning his spring break trip to Thailand. Nonetheless, there is a good chance that Johnson will be attending the BC-Maine football game on Sept. 30 to cheer on his fellow Black Bear student-athletes and as such we at FHMAM are offering a public service warning to all BC fans who plan to attend this game with their middle school-aged daughters.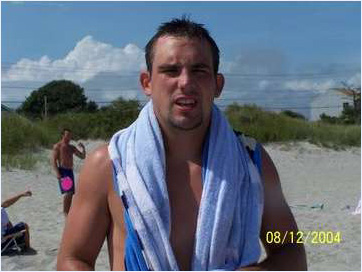 14 days...